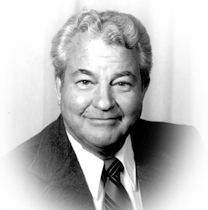 Bill Justice. Photo: Disney
Disney Legend Bill Justice died early February 10, 2011 of natural causes at a nursing home in Santa Monica, California. He was 97.
Recognizing Bill´s immense talent Walt Disney tapped Bill to join Walt Disney Imagineering in 1965, where he programmed Audio-Animatronics figures for such Disneyland attractions as Great Moments with Mr. Lincoln, Mission to Mars, Pirates of the Caribbean, the Haunted Mansion, Country Bear Jamboree, and America Sings.
He said, "One of the most enjoyable Disneyland projects was the ´Pirates of the Caribbean.´ Manipulating the figures in each vignette was a multiple challenge."
Bill went on to help bring to life cast members in the Hall of Presidents attraction in Walt Disney World. He also masterminded the Mickey Mouse Revue featured at Walt Disney World and later, Tokyo Disneyland.
Bill also had a knack for designing parades. In 1959, he designed the floats and costumes for one of the first Disneyland Christmas Parades, and also produced sketches for the Main Street Electrical Parade.
After 42 years with the company, Bill retired in February 1979. He wrote a book about his Disney years called "Justice for Disney," and often was a guest at Disneyana Conventions.