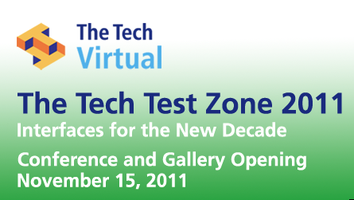 Message from The Tech Test Zone 2011: Interfaces for the New Decade:
"Join us on Tuesday, November 15, 2011 for a gathering of the most innovative developers of new interactive technologies at The Tech Museum's Test Zone 2011. This event will bring together interactive technology researchers, developers, and users for a conference and opening of The Tech Museum's newest gallery.
"Connect with entrepreneurs, developers, and researchers working on cutting-edge interfaces such as: 
Augmented Reality

Context Aware

Deformable Surfaces

Eye Tracking

Feedback

Gestural Interfaces

Gigapixel Images

Motion Sensing

Multi-touch

Natural User Interfaces

RFID

Smart Museum Systems

Tablet Computers

Ubiquitous Media
"Find out how museums and other public-space designers can use these technologies to enhance visitor learning and experience. Experience the interactives firsthand at the opening of The Tech Test Zone Gallery, a new gallery dedicated to temporary exhibitions of prototypes from corporate, academic, and nonprofit partners.
"Agenda:
(Subject to change. Additional details posted as available.)
9:00 a.m. Registration opens

10:00 a.m. Introduction to The Tech Test Zone / The Tech Virtual

11:00 a.m. Press Conference

12:00 p.m. Lunch

1:00 p.m. Lighting Talks by Interactive Developers

4:00 p.m. Workshop: "Experiential Makeover"

5:00 p.m. Conference ends

6:00 p.m. Conference Attendee and Invite-only Opening
"Speakers:  
Christopher Stapleton, Creative Venture Catalyst, Simiosys

Ori Inbar, CEO, Ogmento 

Jim Spadaccini, Director, Ideum, and Principal Investigator, Open Exhibits

Ross Smith, PhD, Deputy Director, Wearable Computer Laboratory University of South Australia

Tamara Schwarz, Senior Manager of Experience Design, Chabot Space & Science Center

John MacDuffie Woodburn, Co-Developer, Pixel, and Graduate Student, University of the Arts, PA

Matt Miller, Co-Developer, Pixel

Bob Ketner, Curator, The Tech Test Zone

others to be announced soon

Bob Ketner, Curator, Tech Test Zone


"Call for Participation:
The Tech Test Zone is developed through The Tech Virtual, an online museum design community dedicated to advancing the art and science of exhibit design, and funded by the Gordon and Betty Moore Foundation. The Tech Virtual is an open platform where artists, companies, designers, experts, hobbyists, videographers, and other creative people from around the world can directly connect with museum projects."