Lighting, visuals, show and production design firm Painting with Light has launched a new live Virtual Event Studio at its C-MINE headquarters in Genk, Belgium. In partnership with NEP Belgium, specialist in festival and sport broadcasting, the Studio offers slick streaming production and broadcast facilities, including full virtual audience interactivity. 
The project is a response to the increased demand for streamed, live and recorded events and content to expand reach and visibility in the wake of the coronavirus pandemic and new social distancing rules. Painting with Light firmly believes this new kind of hybrid & mixed reality solution is future proof.
The new Virtual Event Studio space offers an innovative and creative approach for staging virtual events of all types – from keynote speeches, corporate meetings and presentations, brand activations and round table debates, product launches and conferences to seminars, parties and live music streams.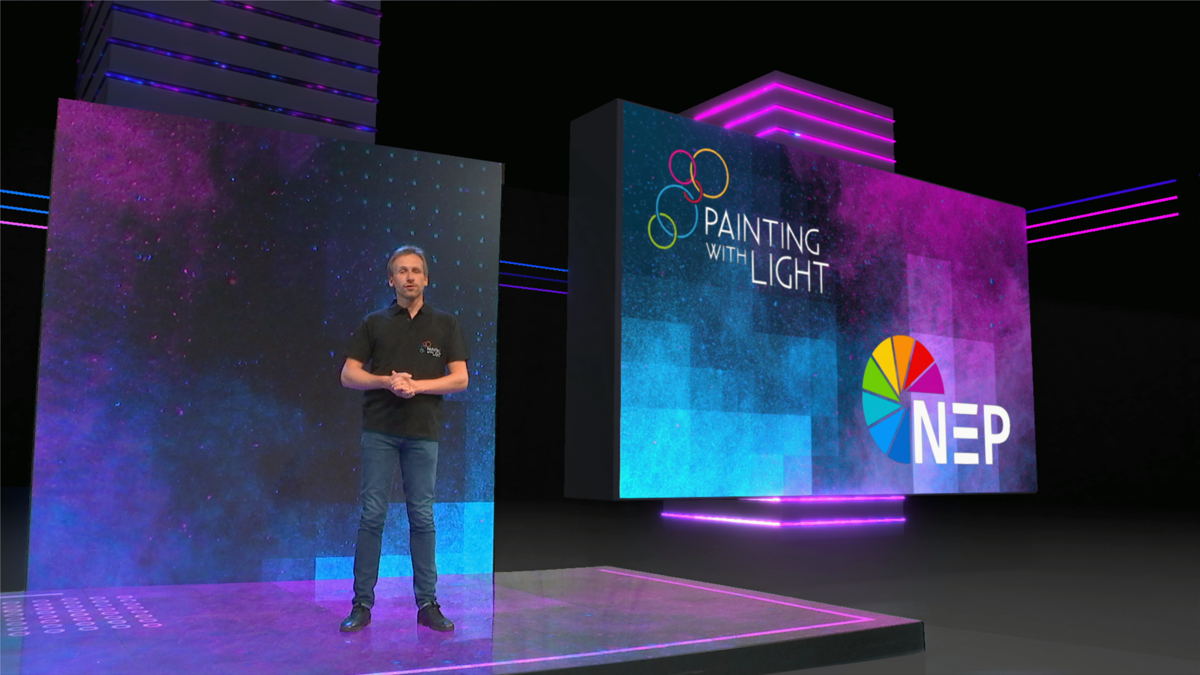 Seeing is Believing
The Virtual Event Studio dynamics are enhanced with a real – physical – high resolution 3 x 3 metre LED wall, putting the presenter in front of a virtual background for a higher quality end result and better visual coherence. A complete video floor below the presenter stage adds further visual dynamics. The other screens are all virtual, however, several smaller physical screens in the studio allow presenters to see and review the content on both physical and virtual surfaces. This improves participation and interaction with the audience.
The 10 x 19 metre recording area is fully equipped with the professional audio & broadcast technologies by NEP Belgium. As lighting and entertainment specialist, Painting with Light applies spectacular and advanced lighting technologies with an adaptable lighting rig offering production extensive tools. 
While all is fully customisable to client needs, for versatility, speed and efficient operation, several pre-designed event stages and spaces are also available for different styles and occasions, each of which can be individually branded. 3D assets and the design of any physical event, studio, trade show booth, etc can be imported from a CAD file and replicated integrating the client's own environment and product design.
Expert ground control
The Studio is equipped with a top-notch channel camera system, advanced audio mixers and speakers with microphones, sanitized after each use and supplied to each person individually. Custom soundscapes, music tracks and effects can also be produced for events as part of the package.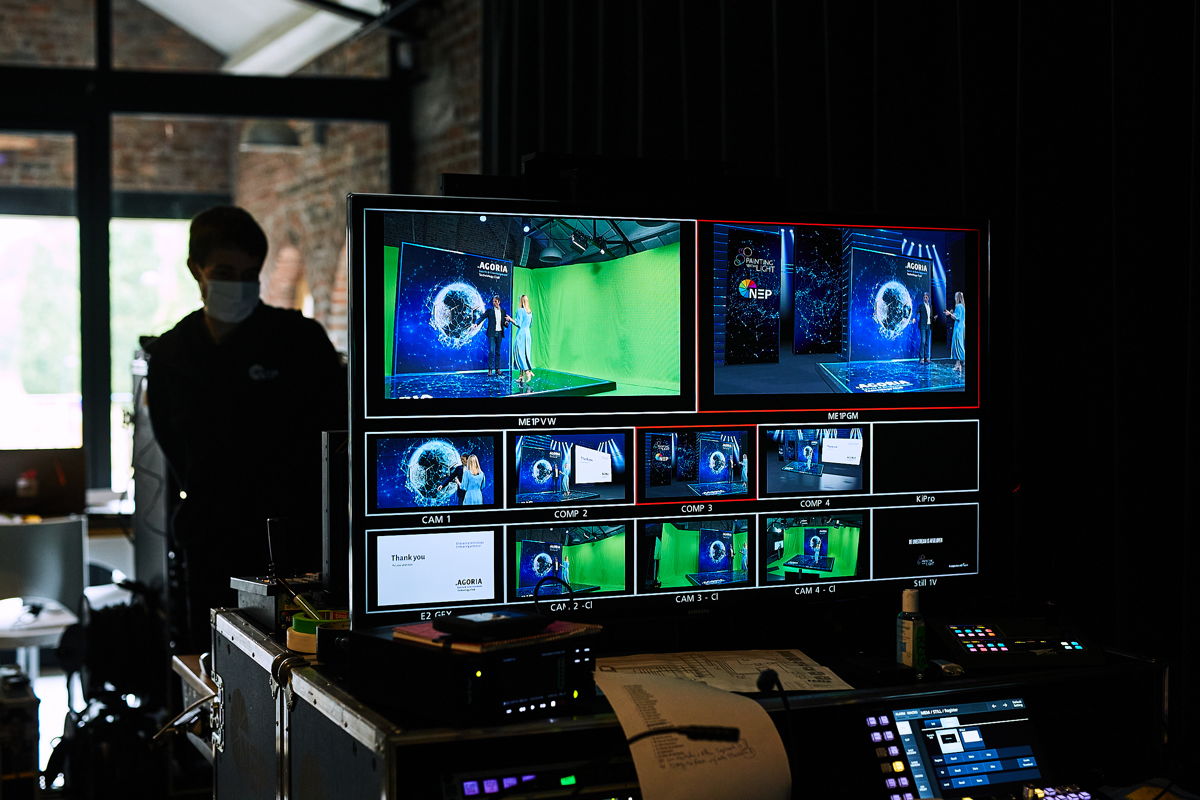 The control room is housed in a separate area with an impressive array of image processors and media servers.  Sophisticated motion graphics are created, whilst sending video content and live camera feeds are sent to the remote and virtual screens.  The control room has its own supplies for hand sanitizing hands and surfaces, and the entire space has been developed with the foresight of a safe working environment and Covid-19 regulation compliance in mind.
All technical experts in the control room have years of experience at festivals, musicals, concerts and other live entertainment events. They monitor every movement of the show and can make adjustments on the fly so there is no interruption or loss of quality. 
Flying high with live interaction
Peter Van den Bosch, Business Development Manager of Painting with Light, comments: "Audiences can be invited and join in via an assortment of different video conferencing platforms and virtually participate on-scene! They are gathered in front of the stage as live video thumbnails and shown on a large projection screen in the studio. This way the presenter can feel their presence and attendees can see the complete audience, just like at a physical event! The online audience can be streamed individually on to the virtual backscreen so the presenter can answer questions and engage in conversations."
The virtual studio live recording output is an industry-standard video feed which can be streamed to popular platforms like YouTube, Facebook, Twitch and Twitter, each of which has its own native interaction capabilities. In addition, clients can order a custom landing page with all advanced networking features assembled in a virtual lobby room. For events with smaller or private audiences, feeds can be streamed to video conferencing tools like Zoom or Skype.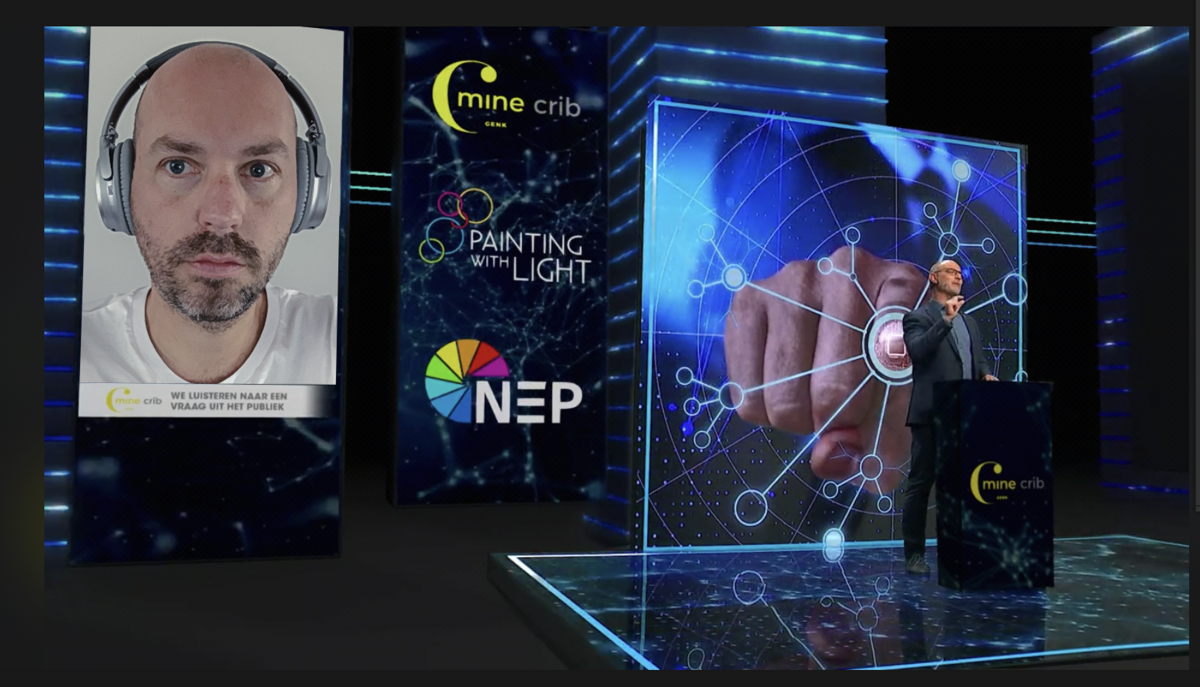 The interest and take-up have been swift so far, with events for IMEC Belgium, C-Mine Crib and Agoria Entertainment & Sports Technology Club being among the first to benefit from the live Virtual Event Studio. Jolyce Demely, Business Advisor at Agoria, says: "The Re-Start event we staged here at the Virtual Event Studio is a great way to reach our community in a safe and fun way. Around 20 companies presented the latest on virtual and augmented reality in entertainment and sports technology, whilst enjoying interaction with the audience, which makes such a major impact."
Marc Convents, Sales Director at NEP Belgium, concludes: "We're delighted to join forces with Painting with Light for these new mixed reality events which will remain relevant as people travel less for meeting and congresses, working more from their home setting. Both NEP Belgium and Painting with Light work in complementary segments of the events industry and we are excited about the great opportunities this new Virtual Event Studio brings."