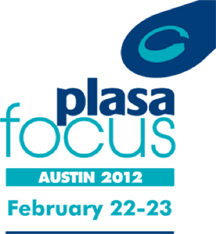 New York, NY—PLASA Events announced its first ever PLASA Focus: Tech, a three-day audio/video/lighting workshop and live concert to be held February 20-22, 2012 alongside the recently announced PLASA Focus: Austin 2012 event.
Focus: Tech will bring together industry experts Richard Cadena (Automated Lighting: The Art and Science of Moving Light), Brad Schiller (The Automated Lighting Programmer's Handbook), Chad Yeary of Portal Designs, Damon Lang of Nomad Sound, and Coolux USA for a unique hands-on learning program. The workshop will include a lighting track with design, visualization, and programming; a video track with video content design media server programming; and an audio track with audio system design live mixing. Each attendee will program and/or operate the lighting, audio, or video for a portion of a live concert before an audience on the final night. The concert, featuring Devon Allman and Honeytribe, will be free to all workshop attendees and PLASA Focus visitors and exhibitors.
Richard Cadena—PLASA's Assistant Technical Standards Manager and Technical Editor for PLASA Media, founder of the Academy of Production Technology, and ETCP Recognized Trainer—sees the unique program as an opportunity for aspiring lighting, video, and audio designers, programmers, and technicians to learn and hone marketable skills. "The most exciting part of this workshop is that every attendee will be able to design their own lighting looks, video content, or audio mix and see them come to life in a live event setting. It's one thing to learn about these principles, but to apply them in a real-world situation with such a great band is an experience that will not soon be forgotten."
PLASA Focus: Tech is part of PLASA Focus: Austin 2012, which takes place February 22-23 at the Austin Renaissance in Austin, TX. The two-day event will provide exhibitors with a simple and affordable exhibition experience and the opportunity to reach visitors who might not attend larger industry events. Visitors will have an opportunity to experience and interact with industry-leading equipment and services without the expense and inconvenience of travelling far from home.
For more information about PLASA Focus: Austin 2012, visit www.plasafocus.com/austin.
At the start of 2011, PLASA and ESTA—the leading trade association representing the North American entertainment technology industry—merged under the PLASA name to create a strengthened organization with a worldwide membership of over 1100 companies and individuals. As a pro-active trade association, PLASA looks after the interests of its members and seeks to influence business practices, standards, and skills development across the industry. PLASA owns and manages the PLASA show and PLASA Focus events and publishes leading industry magazines Lighting&Sound America, Lighting&Sound International and Protocol.