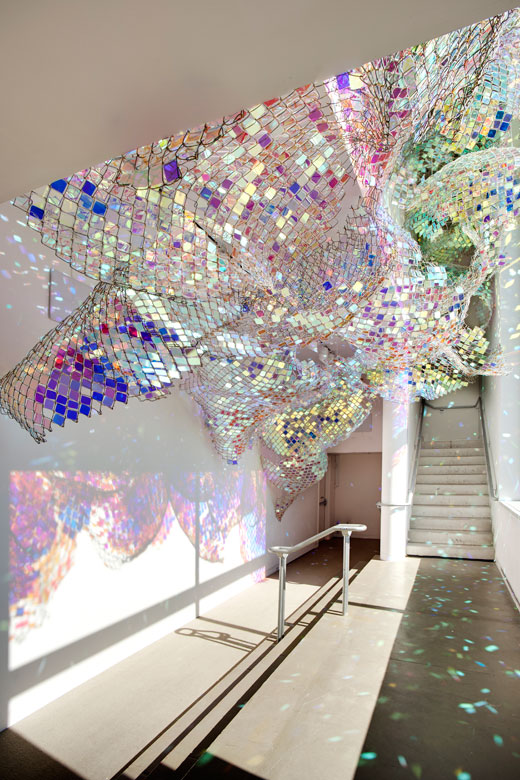 Watertown, MA, USA /PRWEB/ — Audio Spotlight directional speaker systems were recently incorporated into the "Capturing Resonance" installation at Massachusetts' deCordova Sculpture Park and Museum, the eighth in the museum's ongoing PLATFORM series. Sound artist/composer Spencer Topel and sculptor Soo Sunny Park, both faculty at Dartmouth College, collaborated for the first time on the installation, to create an interactive environment filled with ever-changing sonic and visual elements.
By using motion triggers in conjunction with highly directional Audio Spotlight sound beam speakers and low-frequency bass exciters throughout the gallery, Topel and Park are able to evoke unique ethereal layers of various sound states as visitors pass through the exhibit. Topel's audio content varies in composition, from soft chords and tonal pads to prolonged instrumental passages – the intensity and frequency of which also fluctuate, based on the number of and movement of people within the exhibit space.
The always-evolving soundscape proves to be the perfect compliment for the equally varying visuals created by Park's sculpture and its endless colorful reflections and refractions of natural and artificial light within the gallery. By using sculpted chain link fencing as a frame for thousands of tinted plexiglass squares, rainbow hued shadows fill the space, shifting from sharp representations of the structure itself into abstract waves of color washes as the sun moves along its daily path.
Holosonics' Dr. F. Joseph Pompei, inventor of the Audio Spotlight directional speaker comments, "While our day-to-day work with the technology largely addresses commercial applications and reducing the world's noise, we always enjoy seeing people do creative work with the Audio Spotlight technology." He enjoyed seeing the installation in person, and will be visiting Dartmouth's campus for a technical presentation at Thayer School of Engineering as part of their invited speaker series.
"Capturing Resonance," remains active at deCordova Sculpture Park and Museum through July 29th, 2012.

ABOUT HOLOSONIC RESEARCH LABS, INC.
Holosonic Research Labs, Inc., a pioneer in directional acoustics, develops and manufactures the Audio Spotlight® directional sound system. Founded in 1999 by MIT graduate Dr. F. Joseph Pompei, Holosonics' Audio Spotlight technology is used in a wide variety of applications including museums, libraries, offices, reception areas, retail displays, trade shows and retail kiosks. The world's top organizations and companies use the Audio Spotlight directional sound system to beam sound to their listeners… and preserve the quiet.™ www.holosonics.com
ABOUT THE ARTISTS
Soo Sunny Park was born in 1975 in Seoul, Korea. She currently lives in Hanover, NH and is an Associate Professor of Studio Art at Dartmouth College. Park received a BFA from Columbus College of Art and Design in Columbus, Ohio and an M.F.A Cranbrook Academy of Art in Bloomfield Hills, Michigan. She is a recipient of a Joan Mitchell MFA Grant, the 19th Annual Michigan Fine Arts Competition Grand Prize, The Helen Foster Barnett Prize from The National Academy Museum, New York, NY (2008), and The Rockefeller Foundation Bellagio Center Fellowship (2010).
Spencer Topel was born 1979 in Denver, CO. He currently lives in Hanover, NH and is a Visiting Faculty member of Dartmouth College, serving in both the Department of Music and the Digital Musics program. Topel received a B.M and M.M. from Juilliard School in Music Composition and is currently a candidate for the Doctor of Musical Arts degree at Cornell University. He is a recipient of of a Diploma di Merito from the Accademia Musicale Chigiana, a 2009 award for best composition from the American Modern Ensemble, Juilliard's Palmer Dixon Prize for best composition, and additional awards from BMI, ASCAP.