Judith Rubin, InPark contributing editor
Digital dome video aka "fulldome" theaters around the world currently number more than 650 and the total is expected to near 800 in the next two years. Currently, approximately half of all fulldome theaters are in the US, but many new installations are in Asia and Europe.

Fulldome has its foundation in planetariums and science centers, but both venues and content are diversifying. Entertainment operators, houses of worship, corporate marketers, special event producers, video game developers and casinos are all showing interest in fulldome. Likewise, it has attracted filmmakers and digital artists, producers and distributors, exhibit designers, theater consultants and AV integrators.

Proponents of fulldome set up the trade group IMERSA in 2008 to help grow the market and help the medium reach its creative potential. IMERSA's core members are actively spreading the word on multiple, global fronts in a variety of ways – through coverage in the New York Times and in Curator magazine; addressing a gathering of the Academy of Motion Picture Arts & Sciences; presenting at Fulldome UK 2011; organizing a panel for the Themed Entertainment Association's SATE conference in Orlando; planning the next IMERSA Fulldome Summit in Denver – and more. Here's a rundown. — J.R.
Fulldome & themed entertainment: SATE Orlando  
IMERSA will present a panel discussion, "Storytelling and the Digital Dome" at the annual SATE conference on Experience Design, Sept 22-23 in Orlando. The SATE conference affords a valuable opportunity to discuss, within the themed entertainment community, the unique qualities of fulldome for immersive storytelling and media-based experiences, and how the fulldome platform can be applied to projects for education, entertainment and corporate markets. SATE (Story+Architecture+Technology=Experience) is hosted by the Themed Entertainment Association (TEA).
Fulldome & the filmmaking mainstream: AMPAS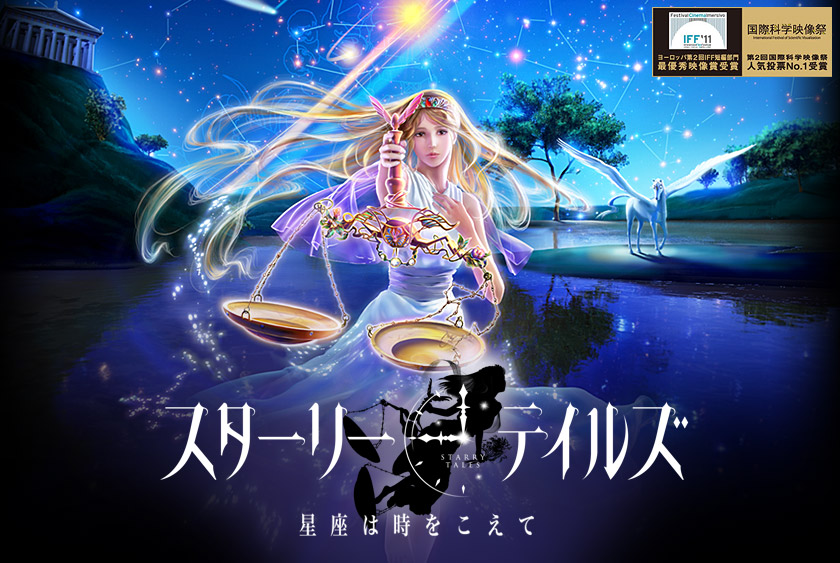 Tale of the Stars
"Many producers and filmmakers have yet to be exposed to the emerging format of the digital dome," said IMERSA founding board member Ed Lantz. Since relocating to the west coast, Lantz has been an energetic evangelist for fulldome in tech and creative communities there. His company, Vortex Immersion maintains a portable dome in downtown Los Angeles for demonstrations and special events, and Lantz makes frequent formal and informal presentations, including a talk to members of the Academy of Motion Picture Arts and Sciences in December 2010. Lantz was part of "Where Do We Go from Here?" presented by the Academy's Science and Technology Council to a packed house at the Samuel Goldwyn Theater, and hosted by writer-director-producer Jerry Zucker.
Fulldome & transmedia projects: X Media Lab
"Storytelling in a Digital Age" was the title of a gathering hosted by digital think tank X Media Lab in Perth, Australia 15-17 April 2011. Billed as "a unique concentration of world-class knowledge and talent in digital media, and gateway between Western and Eastern cultures, markets and business practices," it was attended by some 300 people. Lantz, along with transmedia producer, writer, artist and musician Kate McCallum, took part in the event, which included presenting at the one-day conference followed by two days of advising entrepreneurs about developing transmedia for their projects.
"We piqued interest in fulldome," said Lantz. "People who came to the conference knowing little or nothing about the digital dome format learned how this option might enhance their current projects – helping distribute and monetize their story and property over multiple media channels. That is transmedia – and it is going to become standard practice. During the workshop, Lantz advised three different groups, each with a unique project. "One group is digging up shipwrecks and looking for ways to translate that into exhibits and guest experiences; another wants to produce space science content jointly for the giant screen and fulldome; the third is a cultural preservation venture."

Fulldome & the travels of Dan Neafus
"The Language of Immersive Cinema" was the topic of demonstration/discussions led by IMERSA founding Board member Dan Neafus at Fulldome UK 2011 (Thinktank Science Museum, Birmingham) and Cyprus Domefestival (American Academy of Larnaca, Cyprus), both held in March 2011. Neafus, who is director of the Gates Planetarium at the Denver Museum of Nature & Science wants to motivate producers to distinguish fulldome as a unique storytelling medium with a language of its own: "Production capabilities for this challenging format have improved dramatically in the past decade, attracting new creative talent into the dome. Lacking, however, is a cinematic language that adequately describes producing for the viewer-centric experience in the dome." His presentations featured examples and suggestions of ways to release this creative potential.
At the time of this writing (early May) Neafus was traveling in Europe and reported he had just visited Planetarium Hamburg, where he met with director Thomas Kraupe, and was on his way to the ADP German Planetarium meeting in Vienna, and then to Jena, Germany, for a fulldome standards discussions during the annual Fulldome Film Festival there. Prior to that, Neafus attended Navegar Foundation's Immersive Film Festival at Centro Multimeios in Espinho, Portugal (29th April to 1st May), and provided an account:
"The world came to Espinho: IFF '11 was filled with professionals from Finland, Italy, Russia, Japan, Germany, France and America. "Nanocam – a Trip into Biodiversity" [El Exilio] and "All We Are" [the first fulldome production by the Norrkoping Visualization Center] were the talk of the show. Global Immersion provided a colorful, four channel LED projection system for IFF '11. SCISS introduced new video player software and prepared 40 shows for the festival."
Navegar Foundation announced the awarded works for IFF '11, which were judged by Francisco Costa, a Portuguese movie director; Barbara Cleto, a Portuguese computer science teacher, Yaroslav Gubchenko executive director of the Russian fulldome society and Luis Velasco, general representative of Ilusamedia from Spain:
Full length Shows:

Best of IFF '11: "We are Astronomers" (NSC Creative, UK)

Best Immersion: "All We Are" (Norrkoping Visualization Center C, Sweden)

Best Soundtrack: "Realm of Light" (Softmachine gmbH, Germany)

Best Visuals: "Journey to the Stars" (American Museum of Natural History, New York in collaboration with the California Academy of Sciences, San Francisco; GOTO INC, Tokyo, Japan; Papalote Museo del Niño, Mexico City, Mexico and Smithsonian National Air and Space Museum, Washington, DC)

Best Script: "We are Astronomers"

Short Pieces:

Best of IFF'11: "Continuum" (Paul Grimmer, UK)

Best Immersion: "Charting Course for the Unknown" (excerpts) (David Colagiovanni and Thom Canova, USA)

Best Soundtrack: "Jeepers Creepers" (Morehead Planetarium and Science Center, USA)

Best Visuals: "Tale of the Stars" (KAGAYA Studio/ GOTO INC, Japan)

Audience Award: DYNAMIC EARTH – MARINE BIOSPHERE (Spitz Creative Media; National Center for Supercomputing Applications; NASA's Scientific Visualization Studio, Thomas Lucas Productions, Inc.; and Denver Museum of Nature & Science, USA)
On a melancholy note, Neafus also reported that "Images of smashed SONY SXRD projectors, following the earthquake in Japan, have sent shudders through the fulldome community. Future availability of the specialized versions required for fulldome playback is in question."
Digital domes in the press
The New York Times quotes and pictures IMERSA founding Board member Ryan Wyatt, director of the Morrison Planetarium at the California Academy of Sciences in the article, "Digging Deeper, Seeing Farther: Supercomputers Alter Science," by John Markoff. The April 25, 2011 article states: "The physical technology of scientific research is still here — the new electron microscopes, the telescopes, the particle colliders — but they are now inseparable from computing power, and it is the computers that let scientists find order and patterns in the raw information that the physical tools gather." Morrison Planetarium's fulldome productions "Life: A Cosmic Journey" and "Fragile Planet" are cited as examples.
My own article, " Enveloping Entertainment, about recent digital theater installations at museums, written for the Sept 2010 issue of Sound & Communications magazine, includes a profile of Morehead Planetarium's new GlaxoSmithKline Fulldome Theater. The article has since been reprinted by five different publications – most recently the May edition of Informal Learning Review newsletter.
Curator magazine is about to run its first article about fulldome and immersive applications of digital technology, written by Ed Lantz. It will appear in June or July.
In his article "Domes and 3D Envy," published in the March 2011 issue of LF Examiner, a newsletter geared to the special-venue cinema industry, Paul Fraser of Blaze Digital Cinema Works explored the use of digital projection systems that float a rectilinear, stereoscopic 3D image on a portion of the dome screen, enabling dome theaters to compete in the arena of 3D movie exhibition. Fraser, a past member of the IMERSA Board, interviewed representatives of five theaters in the US and Europe that had installed the "Insert 3D" systems. All declared successful results.
(A pioneering example of integrating 3D projection into a dome setting was implemented in the "Marvel Superheroes 3D" attraction at Madame Tussauds London, which repurposed an existing planetarium. It combines 2D projection onto the dome screen with simultaneous 3D projection onto a separate, flat screen, and was produced by Kraftwerk Living Technologies.)
Upcoming events on the fulldome circuit
David Beining's pioneering celebration of the digital dome medium, DomeFest '11, is forecast to take place in mid-October in Albuquerque, New Mexico, USA. For details, email dbeining @ unm.edu.
The Giant Screen Cinema Association is working with IMERSA to address the digital convergence as it is now manifesting in special venue dome theaters. Between the giant screen cinema community and the fulldome community there are many common concerns and overlapping markets; both sectors stand to benefit from this continuing dialog. GSCA's annual international conference and trade show takes place 20-22 Sept at the Bob Bullock Texas State History Museum in Austin, followed by Dome Day on 23 Sept at the Fort Worth Museum of Science & History. 
The International Planetarium Society holds an international conference every two years. IPS 2012 takes place next July at the Irene W. Pennington Planetarium in Baton Rouge, Louisiana, IMERSA is in discussions with the organizers and hosts about a special series of fulldome/immersive cinema presentations, details TBD.
Also coming in 2012 is the next IMERSA Fulldome Summit, to be held early in the year at the Denver Museum of Nature & Science. Exact dates and details TBD (think "ski season").