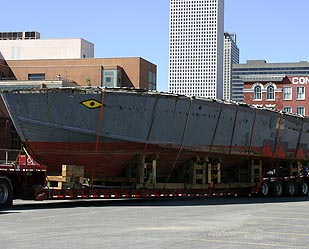 In April 2007, PT-305 returns to New Orleans after 63 years away. Completed in December 1943, PT-305 saw action in the Mediterranean. www.nationalww2museum.org
Visitors can watch curators refurbish historic PT-boat, tanks and other artifacts
 
NEW ORLEANS, June 4, 2011 /PRNewswire/ — The National WWII Museum hits another milestone today in its ongoing $300 million expansion project with the opening of the John E. Kushner Restoration Pavilion. This latest addition to the Museum campus is unique, featuring glass exterior walls that allow the public a permanent, behind-the-scenes view of the restoration and preservation of priceless World War II artifacts. Visitors can see first-hand the techniques that conservators use to repair and restore boats, vehicles, weapons, military equipment and other artifacts which played an important role in winning World War II for the Allies.
One of the first items to be restored inside the 14,000-square-foot facility will be a Higgins Industries PT-boat, PT-305. Built in New Orleans, the vessel saw service in the Mediterranean Theater. Additional artifacts will include a Sherman Tank, numerous artillery pieces, a German Opal staff car and a Dodge ambulance.
The Grand Opening of the John E. Kushner Restoration Pavilion consisted of public activities sponsored by Chevron; including tours of the facility, children's activities and the debut of exclusive PT-305 merchandise in the Museum Store.
Free daily tours of the John E. Kushner Restoration Pavilion will begin in July, based on availability. Visitors can register for the tours when they arrive at the Museum on a first-come, first-served basis.
A native New Orleanian, John E. Kushner, was an ardent enthusiast of World War II history, and donated several valuable items to the Museum's collection of wartime artifacts. He believed in the importance of educating future generations about the values and lessons of World War II, and was instrumental in securing the original Museum site. He was one of the initial Trustees of the Museum – serving in that capacity from 1997 until his untimely death in 2005. Kushner had a particular affinity for collecting and restoring artifacts. The Museum's new Restoration Pavilion will provide an exceptional and highly anticipated space for Museum staff and volunteers to carry on that important activity.
The $3.2 million project is partially funded by an award from the United States Department of Commerce, Economic Development Administration.
The National WWII Museum in New Orleans tells the story of the American Experience in the war that changed the world – why it was fought, how it was won, and what it means today. Dedicated in 2000 as The National D-Day Museum and now designated by Congress as America's National World War II Museum, it celebrates the American Spirit, the teamwork, optimism, courage and sacrifice of the men and women who fought on the battlefront and the Home Front. For more information, call 877-813-3329 or 504-528-1944 or visit www.nationalww2museum.org.