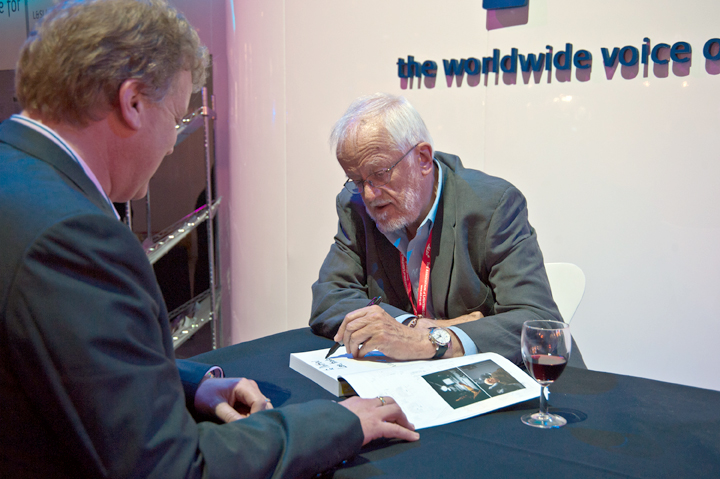 Photo: PLASA
Following a successful book launch in August and signings at the PLASA offices in New York and the PLASA 2011 show in London, respected lighting designer and theatre consultant Richard Pilbrow will sign copies of his memoir, A Theatre Project, at the LDI 2011 show in Orlando, FL. Signings will be held on Friday, October 28 from 4-5pm and Saturday, October 29 from 2-3pm, both at the PLASA booth, #1145
The signing follows Pilbrow's recent acceptance of the Knight of Illumination Lifetime Achievement Award at the fourth annual Knight of Illumination Awards during the PLASA Show on September 11 in London. The awards—organized by STLD (Society of Television Lighting and Design), ALD (Association of Lighting Designers), and Clay Paky Spa—provide "public recognition for outstanding achievement in Lighting Design by UK-based Lighting Designers."
A Theatre Project—written with David Collison, edited by David Barbour, and published by PLASA Media—is the story of an upstart company, Theatre Projects Consultants, Inc., in the world of British Theatre. The company helped shape the stage lighting design profession we know today and went on to become the world's leading theatre design consultancy.
Pilbrow's book is a tale of the rise, fall, and re-emergence of an artistically motivated enterprise in the theatre. It covers six decades that revolutionized stage lighting, sound, and theatre technology, and transformed the shape of theatre space around the world.
A Theatre Project is now available to order online, along with a video discussion with Pilbrow and photos of previous signings, at http://www.lightingandsoundamerica.com/pilbrow2011.html.