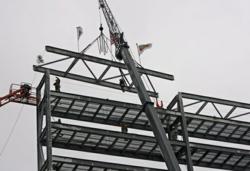 The last girder is moved into place to complete the galvanized steel framework for new 16,000 square foot video display at Charlotte Motor Speedway.
Charlotte, NC, USA (PRWEB) — The completion of the steel frame that will support the world's largest high-definition video board was celebrated March 31 with a topping out ceremony that featured former Dallas Cowboy's defensive end Ed "Too Tall" Jones.
Jones placed an American flag on the final girder, which was hoisted more than 110 feet in the air and secured atop the 500,000-pound steel frame that will hold the 165,000-pound HD video board. The girder measured 40 feet long with a 10-foot depth of bracing steel.
"This is a very exciting time for us", said Richard Ballard, vice president of sales for Panasonic Enterprise Solutions Company, manufacturer of the display. "This is the world's largest high-definition video screen and we will be getting that certified by the Guinness Book of World Records." With 16,000 square feet of viewing area, the new display is 40% larger than the current world record holder at Dallas Cowboys Stadium.
"The one in Dallas was one of the most incredible things I've ever seen in my life, but this one just kind of tops it all," said former Cowboy Jones.
Galvan Industries galvanized all 250 tons of structural steel used in the construction to protect it from corrosion. Galvan has worked on many large projects at the speedway over the years, but this one was special.
The design consists of six vertical trusses that stand 135 feet tall. Horizontal beams, platforms and diagonal bracing add support so the screen can withstand gusts up to 100 miles per hour.
"In terms of our capacity, this job is really just a drop in the bucket," said David Prior, Galvan's technical director, noting that the company galvanizes about 30,000 tons of steel every year. "But it is a unique application for what we do. Generally, we're doing stuff you see every day and don't even think about it."
That may be, but the American Galvanizing Association (AGA) has recognized the company many times for hot dip galvanizing excellence on large and unique projects. The Charlotte/Douglas International Airport Parking Decks, the Norfolk (Va.) Naval Base, and the National Gypsum manufacturing plant in Mount Holly, NC, a 10,000-ton industrial project, are all AGA award-winners.
About Galvan Industries, Inc.
Galvan Industries has been a major supplier of hot dip galvanizing services to businesses and industries throughout the Southeast for 50 years. Its molten zinc process protects steel from rust better than any other coating or treatment.