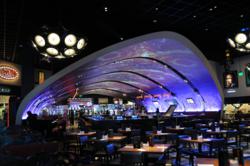 Seminole Hard Rock Cafe
Tampa, Florida, USA (PRWEB) — Building Information Modeling (BIM) was the star when KHS&S Contractors brought to life a new design concept that's rocking fans at the Seminole Hard Rock Cafe in Tampa, Fla. The 17,500-foot venue is the first to feature a new "rockcentric" look, which is being used as a model for Hard Rock Cafes opening around the world in 2011.
Developed by 555 Design Fabrication Management of Chicago, the contemporary design expands the brand's rock 'n' roll focus with architectural details that include a performance stage and a dramatic multimedia canopy inspired by the famed Hollywood Bowl band shell.
KHS&S relied exclusively on BIM as opposed to traditional mock-ups and maquettes to create the band shell's dramatic series of five, complex radius arches. BIM also gave the construction team valuable data that allowed accurate placement of MEP trades above the uniquely sloped structure.
"BIM was the key to completing this project efficiently," said Thomas Pickford, KHS&S-East Coast vice president and director of themed resources. "Given the complexity and precision required by the design, BIM definitely helped us produce a higher quality product and saved time in the long run."
KHS&S developed 3D models that depicted the exact pitch, angle and curvature required for each structural arch to achieve the graduated, 12 to 18-foot seamless expanse dictated by the design. The KHS&S team then worked with curved framing experts at Minneapolis-based Radius Track to create from the models a system of approximately 25 panelized sections fabricated off-site and shipped to the job site for installation. Each panel consisted of light gauge metal studs curved to exact specifications.
KHS&S used All Thread to attach the individual framed panels to the building's existing steel roof beams, creating a suspended canopy over the café bar. Once framing was complete, KHS&S installed ¼-inch drywall, followed by a veneer finish. In addition to holding metal sculptures of immortalized lyrics from rock 'n' roll classics, the canopy reflects digital concert images, immersing patrons in the sights and sounds of an actual rock event.
In other scopes of work, KHS&S completed metal stud framing and drywall for interior walls, metal wall panels, acoustical ceilings, toilet partitions, a dome ceiling in the café's gaming area and select bar millwork.
KHS&S completed the project two weeks ahead of a tight three-month schedule. In April, the project won an award of merit in the Excellence in Construction Awards sponsored by the Associated Builders and Contractors, Inc. (ABC) Florida Gulf Coast Chapter.
About KHS&S
KHS&S is a leading design-assist specialty building company. KHS&S creates interiors, exteriors, themed finishes, rockwork and water features for commercial projects worldwide while offering innovative building solutions ranging from prefabricated building components to BIM and virtual project delivery technology. KHS&S operates from more than 20 offices throughout North America and Asia.