Interview by Judith Rubin
"St. Louis Sound" is a 6,000 square foot, multimedia exhibit created by a dedicated, in-house team at the Missouri History Museum in St. Louis, Missouri. The exhibition opened to the public on 28 August 2021 and is slated to run through 22 Jan 2023. It was some eight years in the making and reflects the museum's focus on telling local stories.
The Missouri Historical Society (MHS) was founded in 1866, and in 1913 opened the Missouri History Museum, which is AAM-accredited, as an outgrowth of the 1904 world's fair in Forest Park. Also under the purview of MHS are two other, separate locations: the Library and Research Center, and Soldiers Memorial Military Museum (downtown). The Museum's location, Forest Park, is a beloved, 1,300-acre city park also home to several other prestigious cultural institutions: The Muny outdoor theater, the St. Louis Art Museum and the St. Louis Zoo. General admission is free to the history museum, art museum and zoo, and all operate under the umbrella of the local Zoo-Museum District.
We interviewed Nicole D'Orazio, Director of Exhibitions, who has been on staff with the Missouri History Museum since 2013.
Tell us about the museum's emphasis on locally oriented exhibitions.
In 2013, the museum made the deliberate decision to develop more exhibitions in-house, focused on St. Louis stories. I was new to staff when that shift happened; the person responsible for the direction is Jody Sowell, Managing Director of Public History. Our focus is on telling local history in exciting and unique ways. We still bring blockbuster exhibitions to our community – but they are about our community, and the response has been huge.
From 2014 to 2017, we saw four consecutive years with attendance over 400,000, and eight of our 10 most popular exhibitions ever – all our own productions about St. Louis history. That's major for our museum; we had never before seen a stretch like that. The exhibition, "Route 66: Main Street Through St. Louis" [2016-2017] was one of our most popular ever. Others include "250 in 250" [2014-2015], "A Walk in 1875 St. Louis" [2015-2016], "Little Black Dress: From Mourning to Night" [2016], and "#1 in Civil Rights: The African American Freedom Struggle in St. Louis" [2017-2018].
Every now and then we might book a traveling show, such as "TOYS of the '50s, '60s and '70s" [2016-2017] or "Pulitzer Prize Photographs" [2019-2020]. "Pulitzer" was technically a traveling show, but all the design work was done in-house and it included a large, local component from the archives of the St. Louis Post-Dispatch that took up half of the gallery. [Joseph Pulitzer founded the Post-Dispatch in 1878 and was benefactor of the Pulitzer Prize.]
It's all part of a well-rounded approach to St. Louis history. We keep that local focus and a strong community foundation, which helps visitors know what this place is about.
How did the "St. Louis Sound" exhibit come together?
St. Louis Sound was one of the first exhibits I was assigned to as a designer, in 2013. Exhibit development takes a long time, and the exhibits content lead, public historian Andrew Wanko, spent years researching and writing the exhibit before I ever got started on design.
There are lots of textiles and costumes. There's a dress Tina Turner wore on the Tonight Show, one of Josephine Baker's costumes, a jacket from Miles Davis, and a four- person wardrobe from The Welders [a 1970s St. Louis girl band]. There are lots of sequins – it's flashy and very cool. In terms of items loaned, there were 40 artifact lenders; two-thirds of the exhibit's artifacts came from them and the rest from the MHS collection.
All of the direction was in-house and the actual production was 90% in-house. As designer, I was responsible for the spatial layout, case design, placement of media components, and directing of graphic design. I was also responsible for coordinating fabrication by our in-house team, led by preparator and mount maker BJ (Robert) Vogt. He led fabrication, installation and mount-making. We have a robust exhibit team: nine full-time employees in the exhibit department including designers, media developers, preparators, and project managers. There is also a great team of temporary preparators who come on to help as needed. We have a carpentry shop, metal shop and finishing space we use for fabrication. Sometimes we will contract things out: For St. Louis Sound, we built the risers in-house, but sent them out to be finished.
External suppliers for St. Louis Sound included upholstery company Zollinger Furniture (riser finishing) and Pinnacle Contracting, who helped demolish the previous exhibit and built some of walls for St. Louis Sound. Others include Smith Pro Commercial Painting (painting and wallpapering; sub-contracted by Pinnacle), Novachrome Digital Design & Imaging (graphics fabrication), Heather Speckhard & Chiara Andriole (graphic design), ACI Plastics (acrylic casework fabrication) and Creative Art Services (framing and matting).
BJ and I have developed a sophisticated, temporary wall system from scratch that allows us to rely less on drywall. The units are three feet wide by 10 feet tall, and seven inches thick. Our team built 85 of them in six months for St. Louis Sound. Temporary wall systems are used widely in the museum field – people are always discussing the different systems – and I think the best approach is to design and build them yourself if you can. On top of those 85 wall pieces, our team built 30-40 risers and lifts for the exhibit, some very large. Most of our casework sits on platforms, and the team built all of those as well.
Interactives and audio-video pieces for St. Louis Sound were developed both in-house and by outside contractors. We have two in-house media developers led by senior media developer Thomas Sleet, who has been with the organization about 25 years. We have a stock of AV equipment, and re-use as much as possible. We outsourced some of the user experience and interactive design work to Full Force Interactive LLC, a local company. We try very hard to keep to local vendors, whether it's graphics, fabrication, construction, or artists. It is a very important part of what we do to include the St. Louis community in the exhibit process.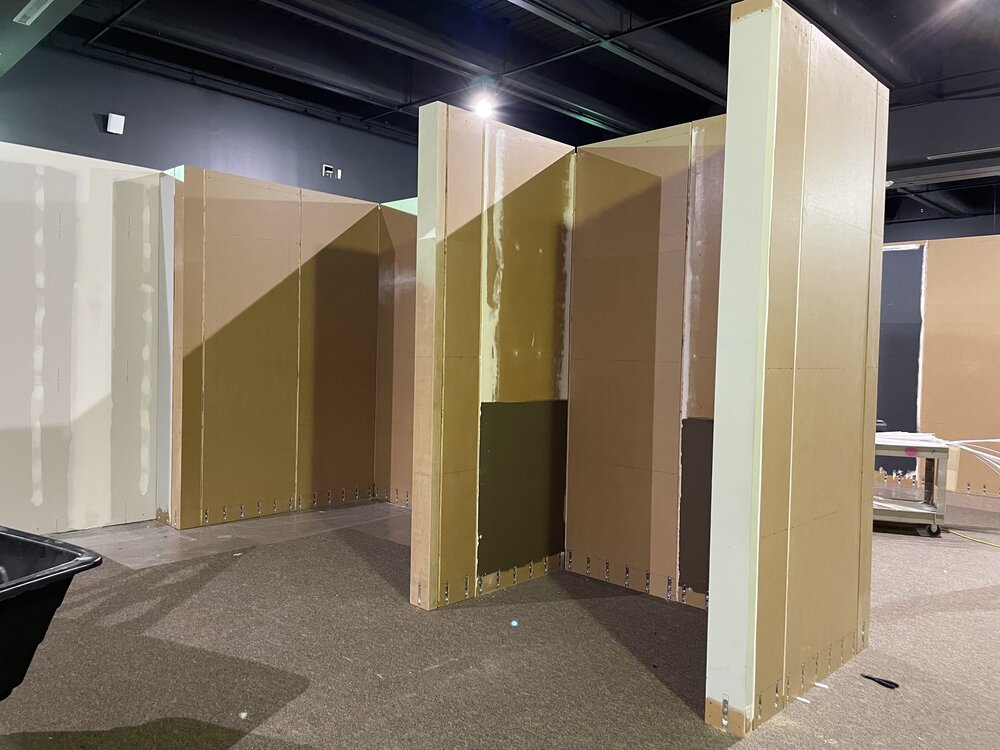 How does the media work in terms of the guest experience?
We have a wide variety of media components in St. Louis Sound. Some are playlists where you click on selections and listen to tracks. One is a mobile playlist. As you enter the gallery, there's a QR code you scan to access 100 songs from 100 artists. The intent is for visitors to listen on their phone as they experience the gallery. Seventy of the 100 artists are featured in the exhibit. Other media features are location based. One honors St. Louis's own Gaslight Square. Another explores locations such as homes of musicians or venues that are important to the music history of St. Louis. These were all created in-house, using Culture Connect software, which facilitates media production for various platforms.
The exhibition opened with a premiere for members and a big weekend party on both Saturday and Sunday, drawing good crowds.
Why has this local orientation worked so well?
We have a great team, and our focus is on storytelling. The process starts with thoughtful content and curatorial work. For a typical exhibit, the content lead is involved for four years: two years of researching and writing on their own or with a curator, and then two years collaborating with a designer. They ask questions like 'what is the story,' 'what are the learning objectives', 'what are the key experiences,' 'how can it work for school groups,' and 'how can we ensure accessibility?' There is a whole package of accessibility features that are pretty standard for all of our exhibits and that benefit all guests. These include touchables, ASL interpretive videos, open captioning on videos, audio descriptions, and Braille, multilingual, or large print label documents.
The community has responded. The more we include, the more interdisciplinary the educational opportunities and interactives are, the more diverse stories we tell, the greater the feedback and reaction from our community.
For every exhibition, we have a large team that involves people from every division of the museum who meet regularly for collaboration, brainstorming and information gathering. There are lots of opportunities for designers and content leads to collaborate with educators and form community partnerships, and to work closely with educational staff to hit the right goals.
Tell us about your background.
I earned a BFA in fine art, then an MA in exhibition design, both from The Corcoran College of Art + Design. At the time it was one of the oldest art schools in the country, now it is part of George Washington University.
After graduation, I interned at the National Museum of American History in Washington, DC. I was there for eight months, during which I designed a small exhibition, "Puppetry in America," with about 25 artifacts. It included some historical puppets such as Punch and Judy, as well as items from the Muppets collection. In August 2013, several months before "Puppetry in America" opened, I came to the Missouri Historical Society.